2010 Orchid: Friend of Preservation Award
Since 1977, the Idaho Historic Preservation Council, Preservation Idaho, has hosted the annual Orchids & Onions Awards, a ceremony designed to celebrate those individuals and organizations that have made a positive contribution to historic preservation, and in turn, to bring awareness to those projects which have shown an insensitivity to historic preservation. In 2010 the Juliaetta-Kendrick Heritage Foundation was selected to receive the Orchid: Friend of Preservation award and the City of Kendrick was selected to receive the Onion award for their 2010 efforts relating to the destruction of the Kendrick Railroad Depot. The original "Kendrick" Depot design, the same person for whom the town was named, is seen below. Of the 34 Kendrick-designed depots built throughout the northwest, ours was the last still located at its original site.
Kendrick Depot, Kendrick
Occasionally, adversity results in a response that both meets the challenge and exceeds it. Such was the case in the community of Kendrick in 2009. Boasting a population of approximately 400 people, this Latah County town has a proud history that can be traced to its establishment as a stop on the Northern Pacific Railroad in 1890. When the 1891 Northern Pacific Railway depot - arguably the oldest structure in the community – was threatened, the preservation-minded citizens hastily formed a coalition to combat the proposed demolition. Though ultimately unsuccessful in preserving the depot, the Juliaetta-Kendrick Heritage Foundation has continued to represent the interests of history and historic preservation in these sister communities. Instead of retreating to heal after the loss of their history, the foundation has instead chosen to continue their activities. For their tenacity and hard-fought loss to the City's administration, the Juliaetta-Kendrick Heritage Foundation is a Friend of Preservation.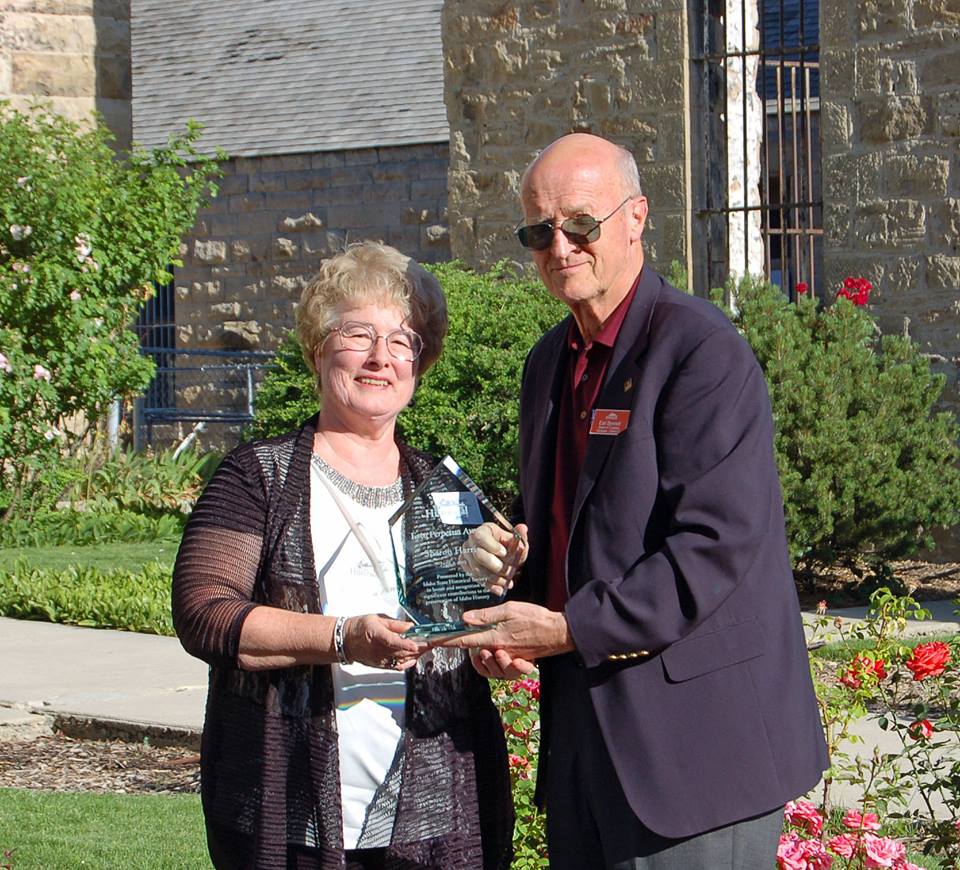 Society's Recipients of Prestigious 'Esto Perpetua' Award 2015
The picture also shows Earl Bennett, our Idaho State Historical
Society's representative.
The 'Esto Perpetua' award takes its name form the state's motto,
"Let it be perpetual". It recognizes people and organizations who
have preserved and promoted Idaho's history through professional
accomplishments, public service, or volunteerism and philanthropy. Since the beginning of the award presentations in 1999, the Idaho State Historical Society has honored 105 recipients. Idaho State Historical Society's annual awards celebration was held this year on Tuesday, June 2, 2015, honoring nine individuals and two organizations statewide.
Our HISTORY:
The J-K Heritage Foundation (JKHF) was established as an IRS public charity nonprofit on January 15, 2009. Local residents gathered and organized in response to an effort from the City of Kendrick to demolish the town's 100-year old historic train depot. Despite the many challenges faced to preserve the depot, we strongly believed its restoration would have contributed to Kendrick and the Potlatch Valley's historical heritage as well providing an economic asset as a tourist draw being the last depot of its design continuing to stand at its original site. Our year-long effort failed. By January 26, 2010, the depot had been completely demolished. The city quickly placed a garbage recycle bin at the former depot site along our Potlatch River waterfront. The following link, Award, describes the coveted State of Idaho award that JKHF received relating to our Kendrick Depot preservation efforts.
JKHF, a totally volunteer organization, draws our energetic and productive work force from those who have a passion for preserving the cultural heritage in our 270 square mile service area. Families can be found here that continue to manage farms, ranches and/or timber homesteads, some acquired in the late 1800's; our diverse projects are strategically planned and mission-matched. A click on the Accomplishment timeline documents our numerous triumphs.
Annual membership dues, memorials, general donations, grants and publication sales are depended upon for operating and project needs. No federal or state funds are provided to us as a historical society. Our public nonprofit status allows donors to use the value of their JKHF gift as a federal tax deduction. We are very interested in creating partnering relationships and encourage your input. Please let us hear from you!
JKHF SERVICE AREA:
The following North Central Idaho rural communities of Juliaetta, Kendrick, Leland, Taney, Cameron, Southwick, Crescent and Cavendish as well as Bear Ridge, Texas Ridge, Potlatch Ridge, Cedar Ridge, Fix Ridge, Little Bear Ridge, and American Ridge are included in the area we service.

JKHF MEETING Details:

Day/Time: 2nd Saturday of each month.
We gather at the museum beginning at 9:00 am. After our meeting, we work at the museum updating collections and filing. All are welcome at any meeting.
Location: 2nd Floor Level in the Kendrick Fraternal Temple (Grange) Building (614 East Main Street) in Kendrick Idaho.
JKHF Contact Information:
Telephone & E-Mail contact: Sharon Harris, President (208) 289-4622 25skharris@gmail.com
JKHF Postal address: P.O. Box 37 Kendrick, ID 83537
JKHF Physical Address (make appointment): Fraternal Temple building 2nd floor: 614 E. Main Kendrick ID 83537